This week's Caribbean Webcam comes from Cooper Island in the BVI. Cooper is the kind of tropical island you see when you close your eyes and dream. It is mostly uninhabited and is held hostage by beautiful coral reefs. If you are looking to unplug and spend some time away from the world, this out-island of the BVI is a good destination.
Cooper Island is 1½ miles long by ½ mile wide, and sits about five miles south of Tortola. Tiny and unspoiled, Cooper is free from roads, loud nightclubs, shopping malls and crowds. Grab a good book and a cold drink, because Cooper Island provides the perfect escape from the stress of everyday life.
Webcam at Quart-A-Nancy Point, BVI
(Click Here for Current View in this window)
Current webcam photo is updated periodically throughout the day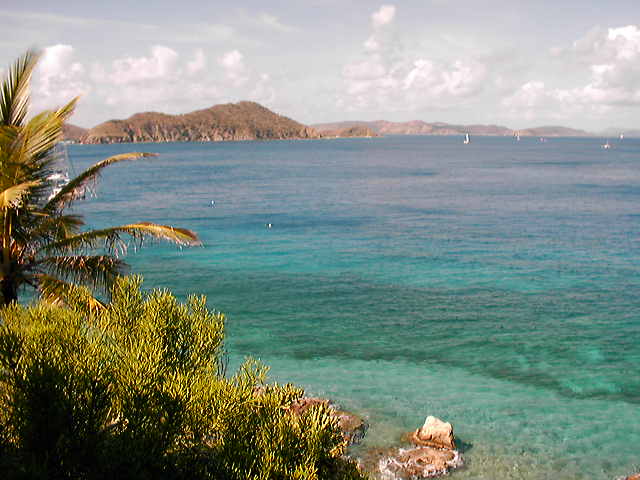 View from Quart-A-Nancy Point Towards Salt and Peter Islands, BVI
Looking for a place to stay?
The house at Quart-A-Nancy Point is one of only a few private homes on Cooper Island. It was built in the 1960s and 70s as an artist's retreat. The construction is concrete, concrete block, and native stone. Please see our interactive floorplan showing house layout. Renovations were completed during May 2006 and the newly refurbished house is available to Guests for rental
Access to Quart-A-Nancy Point is only by private boat or via the Cooper Island Beach Club boat from Tortola to a Private Jetty. There are no roads and only 5 private residences on the island plus the Cooper Island Beach Club. (Info from Quart-A-Nancy Villa website)
Enjoy your glimpse in to the waters of the BVI Castaways.
Don't Forget! – Please vote for me for the Marriott Beach Blogger contest. You can vote once every 24 hours. Voting ends March 24th. Thanks!
Cheers,
RumShopRyan
Follow on Facebook and Twitter
www.Facebook.com/RumShopRyan
www.Twitter.com/RumShopRyan
P.S. – Leaving soon? These recommended links below will help you save money and book your trip:
We use all the companies listed here or on the resource page. By booking through these links, the small commission we earn helps us bring you more Caribbean content so that you can save money and have a better island vacation. Crystal and I greatly appreciate any support!