This week's Caribbean webcam comes from the far western end of the sea, the beautiful Mexican coast of Playa del Carmen.
The webcam is perched high atop the roof of the Playacar Palace Resort in Playa del Carmen. Take in views of the soft sun baked sand, a beautifully designed swimming pool and of course the blue of the Caribbean sea.
I know, you want to be there right now, sipping cold Corona and salty margaritas as the hot sun bathes the beach in its stress melting rays. You practice your Spanish by saying things like, uno mas cervesa por favor and Yo nunca quiere salir. You ask the bartender if there's a guy named Jose selling freshly caught snapper down by the beach, because he just may hold the secret on how to live "The Life".
Yes, a Playa del Carmen escape is long over due.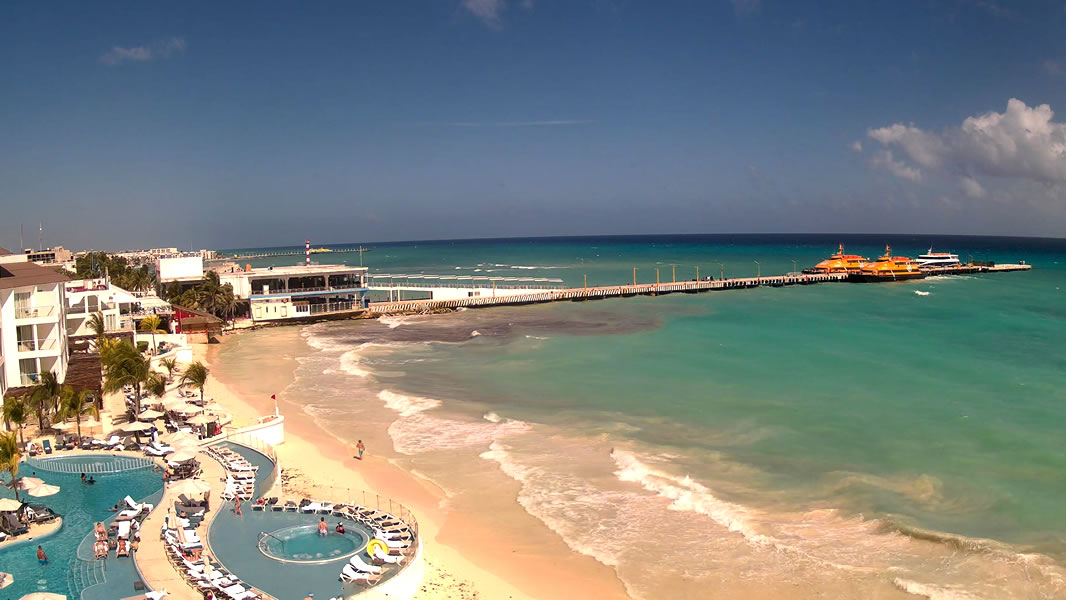 Playa del Carmen
Playa del Carmen, or just "Playa" as it is colloquially referred to, is the center of the Riviera Maya concept, which runs from south of Cancún to Tulum and the Sian Ka'an biosphere reserve. Playa is a stop for several cruise ships which dock at the nearby Calica quarry docks, about six miles south of the city.
Tourist activity in Playa del Carmen centers on Quinta Avenida, or Fifth Avenue, stretching from Calle 1 norte until Calle 40, a pedestrian walkway located just one or two blocks inland from the beach. Fifth Avenue is lined with hundreds of shops, bars and restaurants. There are many small boutique hotels on Fifth Avenue as well as just off Fifth Avenue and on the beach, such as Luna Blue Hotel & Bar, Fusion Beach Hotel Bar & Grill, Deseo, Basico, Casa Ticul, Barrio Latino, La Tortuga and many others. (info from wikipedia)
Enjoy the live view of the beautiful Playa del Carmen beach. Let me know if you've had the pleasure of staying in Playa del Carmen and what you thought.
Cheers Castaways!
RumShopRyan
Please subscribe and Follow on Facebook and Twitter
Subscribe to Daily Updates
www.Facebook.com/RumShopRyan
www.Twitter.com/RumShopRyan
***Join our Patreon Castaway Crew. For LIVE broadcasts, exclusive content and other perks! Please become a Patron and support our content creation so we can bring more of it to you.
If you aren't familiar with Patreon, it's an online platform that allows you to support the work of your favorite creators. Giving them a chance to continue working on their creations without having to worry about where their next meal is going to come from! Thank you so much!